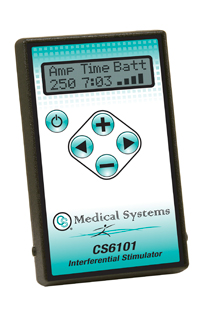 Interferential Stimulator
CS6101
The CS6101 Interferential Stimulator was specifically designed for the health care market. The unit incorporates interferential and NMS protocols, and was built to provide a portable user-friendly experience for the patient, while offering a myriad of possibilities for the clinician.
New customers must meet purchase eligibility requirements through completion of our prescription form, which will be emailed to you.
Contact us for pricing:
Minimum Order of 10 Units
The CS6101 comes to you as a complete kit including the CS6101-K01 Interferential Stimulator, custom cut foam-lined carrying case, CS1210A AC adapter, CS2110B lead set, (1) set of CS1304 electrodes, CS00617A carrying pouch with clip, clinician manual, and instruction manual.
Features
Interferential Two-channel protocols (4-lead output)
Rechargeable long-life, quick-charge NiMH battery
Includes AC power adapter with built-in charger & indicator
Includes five preset protocols including NMS and IF
Optional programmable custom clinician protocols
Electrode leads have TouchProof* output connectors
Additional Features
Clinical compliance metering built-in
Frequency and amplitude controlled by microprocessor
Water-resistant front touchpad
Easy-to-read 2-line alphanumeric/graphic display
Flexible treatments using Pause/Resume function
Countdown treatment timer display
Downloads