Electrotherapy Stimulators
Electrotherapy uses electric impulses delivered through electrodes on the skin, mimicking the central nervous system to stimulate nerves and muscles. The process is used to reduce inflammation, treat pain and may also be used for muscle training, including bladder incontinence treatment.
Interferential Stimulation is a popular treatment used today by doctors, chiropractors, physical therapists, and rehabilitation facilities.
Sold to the Trade only
Minimum Order of 10
Federal law requires a prescription to purchase these products. First time buyers click here to be directed to the RX form page before we can accept the order.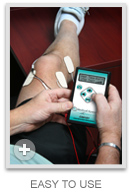 Manage Chronic Pain
& Inflamation
Interferential Stimulation, an FDA approved process, crosses two electric impulses of alternating current for additional impact at the intersection of the electrical paths. Interferential Stimulation is typically used to manage deep chronic pain and inflammation.
---
Private Labeling
& Competitive Positioning
CS Medical Systems offers private label branding and special multiple-unit pricing to medical professionals of its products, to create brand loyalty and competitive positioning for our customers. Practitioners and patients will request these stimulators because of the features so often missing from competing products.